What's a Personal Chef?
As your personal chef, I prepare and cook delicious and nutritious, palate-specific meals in the safety of your own kitchen. I use only fresh ingredients and tailor each enjoyable meal according to your specific requests. Imagine being able to have all your favorite dishes made to order! Personal chef services are also ideal for those who have food sensitivities and/or allergies, or for people who are on medically restricted diets.
Services
My service starts with a complimentary consultation in your home to discuss your specific requests. We'll discuss your dietary requirements, culinary preferences and how I can customize your meals to suit your particular needs. I can cook from a wide variety of cuisines and am also happy to make your favorite recipes. I shop for the freshest ingredients and, on your specified cook date, will bring all the groceries and equipment necessary to carefully prepare your selections, designed to your specifications.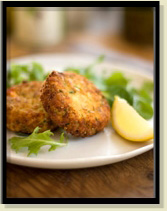 I am a certified ServSafe® Food Manager and all of your custom-designed meals will be properly cooled and stored in containers with the amount of servings that you request: family-size, double-, or single-servings. All meal containers are labeled and come with handling and heating instructions.
Not only do I shop and cook for you, but I will leave your kitchen clean and sanitized. You'll come home on your cook date to a clean kitchen, a refrigerator full of your favorite dishes, and the delicious aroma of freshly cooked meals.